We care about clean air
solutions for indoor air quality
Scent marketing for hotels
Scent marketing for hotels is the latest global trend. It is the answer for the hotel industry in its quest for innovation. Offering scent experiences has become a differentiating element that travellers value highly and it enhances the customer experience. Scent marketing allows your hotel to not only strengthen its brand identity, but also to increase sales and improve the customer experience. But what is scent marketing for hotels? And what are the pros and cons? Read on to find out all about scent marketing for hotels.
What is scent marketing for hotels?
Imagine a guest entering your hotel lobby and immediately sensing a scent that triggers a mechanism in his or her brain. At that moment the subconscious registers the smell as a very powerful and memorable memory.
In milliseconds, you turn the image of your hotel into a powerful memory, creating an even more lasting connection with the hotel brand. Strengthen the marketing concept of the hotel brand by bringing aroma-client-brand together.
Studies show that a person remembers 35% of what they smell. Because smell and memory are connected to the brain, people are able to remember smells and aromas for years. Therefore, this sense is fundamental to any marketing strategy.
Some studies show that memories triggered by smells can be stronger than those by images or sounds. Based on this principle, scent marketing for hotels is a stimulation technique that uses the sense of smell to convey lasting sensations to consumers.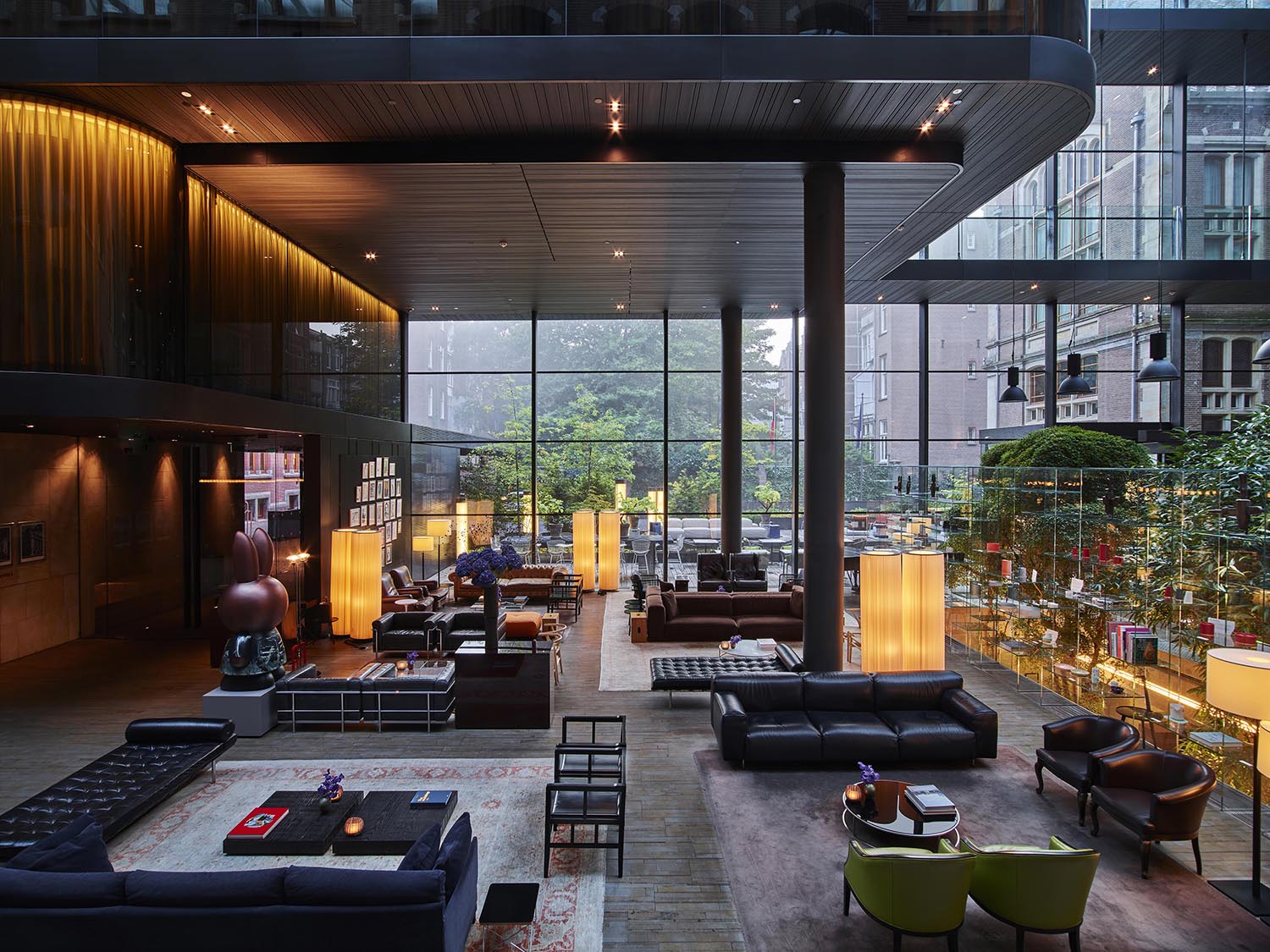 Hotel Conservatorium Amsterdam
What are the advantages and disadvantages of scent marketing for hotels?
A key benefit of this marketing technique is that it transcends the boundaries of distance. That is, no matter how far away your customer is from the hotel, he will vividly remember the experience sown by the brand. This strengthens the bond that has been created. We call this phenomenon the butterfly effect. No wonder hundreds of luxury hotels are already harnessing its power.
Other benefits of scent marketing for hotels include:
Creates a positive first impression with travellers and influences their entire experience
Relates to guests' holidays, creating memorable memories
Can stimulate the consumption behaviour of the guests, especially in the hotel room, in the restaurant and in the wellness areas
Influences the satisfaction of travellers, especially in the area of housekeeping services
A disadvantage is that – like all forms of marketing – it requires investment and planning. You may want to use scent marketing only in common areas with the same scent that identifies your hotel. On the other hand, you might consider using distinctive scent marketing in different parts of the hotel. For example, one scent for the rooms, another for the lobby, another for the restaurant, etc. Of course, the costs and planning required will vary. But in both cases the results are worth it.
Which fragrance diffusers are suitable for a hotel?
When choosing an odour diffuser for your hotel, it is important to take into account, firstly, the size of the premises. And secondly, the capabilities and power it offers. At Extreme Air Products we have two professional fragrance diffusers that are ideal for scent marketing: the Scent Experience and the Smartscent.
Our Scent Experience diffuser is ideal for large spaces such as the lobby and restaurant/bar. This professional fragrance diffuser is designed to influence the perception of scent in spaces between 100 and 800 m2. Moreover, the possibilities of this product are almost unlimited. Different fragrances have different effects. So choose the fragrance that is most suitable for the location. When choosing a fragrance diffuser, it is important that you take into account that it is easy to use. After all, many employees in the hotel will have to work with it, so it is essential that it is easy to use. Then the Scent Experience is exactly what you need. It is easy to use and can be adjusted very accurately. You can also determine exactly how strong the system is and what times and days it is active.
Scent Experience
For smaller spaces, on the other hand, we recommend our Smartscent scent diffuser. This can be the perfect scent diffuser for spaces such as bedrooms and meeting rooms. It is also ideal for wellness facilities such as massage practices, group practices, yoga studios, etc. With the Smartscent you can easily create the desired fragrance experience in rooms of 60-80 m2. It consists of a cold mist technology. The aromas based on essential oils are gently introduced into the room. The desired intensity can be adjusted with a slider.
Scent marketing for hotels also requires a scent neutraliser
One should not forget that the goal of scent marketing for hotels is to create an unforgettable experience. In addition to increasing customer satisfaction with their stay. While the perception of pleasant odours is fundamental to improving the guest experience, neutralising bad odours is equally, if not more, important! We have all experienced how a bad smell can sour our stay, making us forget all the good things the hotel has to offer.
A scent cannot mask an unpleasant smell, it can even make it worse. Therefore, in these cases it is essential to have an odour neutraliser. At Extreme Air Products we recommend our odour Neutraliser. Thanks to its patented neutralising cartridges, it can eliminate even the worst odours. It is ideal for restaurants (e.g. preparing fish), for the hotel gym or fitness room, as well as for communal bathrooms, laundry or smoking areas.
6 scent marketing tips for hotels
Good use of scent diffusers can make the difference between the competition and your hotel. It is not surprising that most 5 star hotels already use this effective technique. Here are some tips on how to make the most of scent marketing in your hotel:
Plan a good strategy. Will you use it only in common areas or will you use it in all rooms?
Not all fragrances are suitable. Different situations need different scents. Think about what feeling you want to convey in the different rooms, and choose an appropriate fragrance.
Use scent marketing. This is to offer a plus to your services. For example, use the smell of jasmine in meeting rooms. According to the latest studies, this smell increases concentration!
Play with the illusion. Good cleaning is not always synonymous with a clean and fresh scent. A lemon scent or a fresh cotton fragrance is more effective.
Think about the pleasure of your guests. Neutralise bad smells where necessary. And promote pleasant fragrances in your hotel's restaurant (making the stay more pleasant and increasing sales), in the spa or in the lobby.
Create tranquillity in your hotel rooms. Use a pleasant, soft lavender fragrance in the rooms to promote calmness among your guests.
By following these tips, you will ensure that your hotel guests have a wonderful stay.

Need advice or more information?
Stimulate the customer experience in a positive way or remove unwanted odours. Extreme Air Products is happy to help you optimise the scent in your building. Discover the possibilities of scent on the product page of our scent solutions. Do you have any questions or would you like a free consultation? Call +31 20 646 4028. Or go directly to our fragrance product range: