We care about clean air
solutions for indoor air quality
What is the best air purifier to buy in your situation? (Update 2023)
Do you want to buy the best air purifier? Then are the air purifiers from Extreme Air Products the best choice for problems with smoke, viruses, odor and fine dust. Read information from the British Lung Foundation about the harmful consequences of poor air quality. We offer sustainable air cleaners that are used for both smoking rooms and large and small rooms. Our products are patented and are produced in the Netherlands and Sweden.
Buying an air purifier is an excellent investment
Buying an air purifier means clean, healthy indoor air. That is the main reason for buying one. Your home and office is a source of pollution and often unhealthier than outside air (source). This is mainly due to the fact that ventilation systems filter virtually nothing. This allows dust, pesticides, exhaust gases and other types of air pollution to enter.
By buying and using an air purifier, you remove all air pollution and ensure yourself of the cleanest indoor air. It gives the feeling that you live or work in air as healthy as the Finnish outdoors.
How does an air purifier work?
An air purifier uses a filter to purify the air. Different types of filters are available on the market. Good air purifiers work with a HEPA filter. These filters with an effectiveness of 99.99% remove all impurities from the air (fine dust, allergens, pollen, etc.). It is therefore best to buy an air purifier with a HEPA filter.
View below in our review which air purifier is most suitable for your situation.
For in your smoking room or smoking cabin
The EAS1300 is the best buy for smoking areas. This extremely powerful air purifier works through a unique and patented combination of air displacement and filtration. A test by the TNO Dutch research agency shows that the air purifier reduces harmful substances by as much as 99%. The EAS1300 has thus emerged as the best choice of professional air cleaners.
Extreme Air Products provides customised solutions. Moreover, it offers a number of standard sizes in its range of smoking rooms. A room must always be ventilated in accordance with the Building Decree of your country. Because good ventilation in your smoking room is of great importance, sufficient oxygen is left in the room. However, this one-sided option is insufficient for the removal of smoke.
The best air purifier for removing smoke is the EAS 1300. This requires minimal ventilation. That means no large fans, no drafts and a very limited energy consumption. So all in all a sustainable product in your smoking room! In conclusion, the sustainable air purifier EAS 1300 is not only good for the visitor to the room, but also for the environment and the saving on costs.
For hospitality, cafe, restaurants, clubs
View below what the best air purifier is for your situation.The EA500 professional air cleaner is ideal for catering and clubs. This air purifier is an effective ceiling cleaner with an enormous amount of power. Fast and powerful techniques such as mixed ventilation and the Ultra-Pleat filter technology ensure efficient air purification.
View below which air purifier is most suitable for your situation.The Ultra-Pleat filter removes even the smallest particles from the polluted air. It is a filter technique with an enormous storage capacity. This makes the filter last longer than usual. The air that needs to be cleaned passes through no fewer than three filter layers. The prefilter removes the larger particles. For example, hair and coarse dust from clothing and carpet. The Ultra-Pleat filter removes small particles. Such as smoke, microorganisms and particulate matter. Tests have shown that the Ultra-Pleat even collects particles of 0.01 microns. The third filter is an active carbon filter and removes unpleasant odors.
Best purifier against fine dust and for professional areas
The EDC650 air purifier is the best buy for professional areas such as large offices, schools and gyms. This brand new air purifier uses a unique circulation and filter technology. TNO tested this technology and concluded the following: the EDC650 is incomparably effective against fine dust: 99.99% (!) of all fine dust particles in the test room were eliminated.
Furthermore, the purifier is considered as very quiet. The decibel level is between an agreeable 27 and 49 dB depending on the air speed. The EDC650 also has a maximum air capacity of 650 m³ per hour. The fine dust purifier is also very energy efficient. On average use, it only uses 45W.
Buying the best air purifier for at home
The EA15 is the smaller sister of the EA30 air cleaner. It is suitable for small rooms such as a bedroom. Did you know that indoor air is often more polluted at home than outside? Even printing can cause dangerous particulate matter in the air. Don't surprise yourself and ensure optimum air quality at home. The silent air cleaner EA15 offers a fine solution with low consumption. The small air cleaner can even be mounted on the wall and is therefore no obstacle in your room.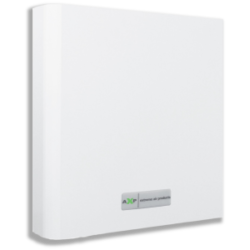 Best air purifier buy for patient & hotel rooms
The EA30 air purifier is the best buy for patient rooms, hotel rooms and the office. The advantage of the EA30 is that this super effective and low-noise system can make your room dust-free. The EA30 is a small, very quiet and energy-efficient air cleaner. The EA30 even has the lowest energy consumption of all air purifiers.
In addition, the EA30 uses an active ION HEPA filter. This filter tackles and removes the smallest microbes. An example of this is ultra-fine dust. Optionally, an active carbon filter is also available. In conclusion, this small air purifier is perfect for patient rooms, hotel rooms or for your home if you are looking for a powerful solution.
Best air purifier against viruses
The EA90 is designed to keep the air in large and demanding areas free from viruses and other air pollution. This powerhouse does this with the help of ionisation in front of the filter and effective cleaning in the filter. The EA90 uses an AIH (Active-Ion-HEPA) filter. This filter is a refinement of the commonly used HEPA filter. It removes air pollution such as viruses, bacteria, pollen and exhaust gases with an effectiveness of 99.98%.
Do you want free advice or a free quotation?
In summary, you would like an improvement in air quality at your home or in your organisation. Then you have come to the right place. Since we can offer tailor-made solutions. These solutions can remove all harmful substances. We distinguish ourselves through our many years of experience. As well as our extensive service options. With our expertise we ensure that indoor quality is no longer a concern for you.