We care about clean air
solutions for indoor air quality
The EA90 air purifier, for virus-free air in large spaces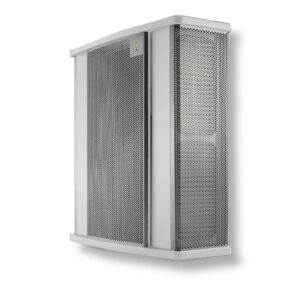 Ionization before the filter
Unique AIH filter technique
Very effective against viruses
Low noise level (from 29dBa)
Very high capacity
Call +31 20 646 4028 for free advice or a non-binding offer.
Follow us
EA90 Air purifier: keeps the air virus-free
The EA90 is designed to keep the air in large and demanding areas free of viruses and other air pollution. This powerhouse does this with the help of ionization before the filter and effective cleaning in the filter. The EA90 uses an AIH (Active-Ion-HEPA) filter.
This air purifier has been added to the list of controlled and authorised air purification products against Covid-19 in Belgium.
AIH stands for Active-Ion-HEPA and is a significant improvement on the already very effective HEPA filter technique. AIH has the same high capacity as the regular HEPA technology, only with less pressure loss. This allows a lighter motor to be used. It provides advantages such as less noise, less energy consumption and a filter effectiveness of 99.98% (!).
The ideal air purifier for:
Large office spaces

Meeting rooms

Hospitality establishments

Apartments

Medical practices

Copy rooms
NO OZONE:The above-mentioned ionisation technique takes place inside the air cleaner. Side-effects such as dust deposits in the room and OZON are therefore not possible. Read more about how the air cleaner works below.
The best air purifier against viruses
Various studies have shown that ionization makes bacteria and viruses harmless. The AIH technique uses ionization before the filter. As a result, bacteria and viruses that are caught in the filter are actually made harmless.
The air purifiers from Extreme Air Products all contain excellent air circulation. This means that all pollution in the air is efficiently transported to the filter and collected there. Individual ionization modules and modules that are placed behind the filter in other air purifiers have only a limited range.
See here how AIH filter technology with ionization works in practice
AHAM certification
The EA90 air purifier has AHAM certification. This is an American standard for the operation of household appliances.
CADR Smoke 552 m³/h
CADR Dust 555 m³/h
CADR Pollen 588 m³/h
CADR / Watt 7,9
Product specifications of the EA90
Technical specifications
Mains voltage:                       230V / 50hz
Max. consumption:               24-70 W
Max. air capacity:                  900 m3 / hour
Max. space (advice):             160m2
Fan speeds:                            4
Filter effectiveness:               99,98%
Noise:                                      35/45/50/60 dBa
General specifications
Width:                                     565 mm
Height:                                    615 mm
Depth:                                     220 mm
Colour:                                    White
Casing:                                    Steel
Weight:                                   15,2 Kilo
Operation:                              hand / panel
Wall mounted or standing
Performance
Filter system:                         Active-Ion-HEPA
Warranty:                               2 years
Standards:                             CE