We care about clean air
solutions for indoor air quality
How do you remove fine dust from the air in schools?
Fine dust at school, it's a problem that many educational institutions in the Netherlands have to deal with. These invisible dust particles cause a lot of damage to young children. Schools in the Netherlands who are placed near the highway or a busy road have been warned for the fine dust problems.
The consequences of a high concentration of fine dust in a school building, playgroup, primary school, classroom, secondary school, college, university or canteen are often incalculable. Find out what you can do about it in this blog. For example, does an air purifier help at school?
How does fine dust form in schools?
The fine dust in schools is a form of air pollution that is invisible to the naked eye. It consists of particles smaller than 10 micrometers of different size, origin and chemical composition. Schools are often spoken of negatively in the news for their poor air quality and unhealthy indoor environment.
A high concentration of fine dust at school often has various causes. Most of it comes in from the outside, mainly caused by exhaust fumes, tires and brakes from cars and aircraft, and emissions from the industrial sector. For that reason, schools close to a highway, busy road, airport and industrial site are very vulnerable to air pollution. However, fine dust particles are also caused in a school itself. For example, machines such as printers and shredders also emit the invisible dust particles. Besides all that even microplastics in clothing can cause unhealthy indoor air.
Fine dust and the health risks for young children
These invisible dust particles are even more harmful to young children than to adults. This is because children breathe faster than adults, with the result that they inhale more air and therefore more fine dust. Many unhealthy dust particles also hang close to the ground. And since kids are so little.. it's a serious problem.
According to the Dutch Lung Fund, long-term exposure to fine dust can cause illnesses such as asthma, bronchitis and COPD in children. Read more about air purifiers for asthma. But the health problems caused by fine dust are not only respiratory problems. Research also indicates that when pregnant women come into contact with fine dust, it can be seen in the development of the brains of their babies. For example in their children's face and there is an increased risk of ADHD and learning disabilities.
These are shocking research conclusions and point out the importance of protecting our children from air pollution. Could an air purifier improve the air quality at school?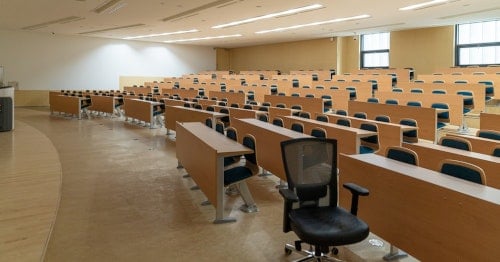 Schools in the Netherlands are also facing a fine dust crisis
Fine dust at school is an increasingly well-known problem in the Netherlands. For example, a recent study by the Groene Amsterdammer shows that many schools in Amsterdam are exposed to air pollution for a long time now. However, these "fine dust schools" in Amsterdam have promised to take measures.
Is it possible to measure fine dust at school?
The best method to measure the concentration of fine dust at school is with a professional fine dust meter. This device measures the concentration by means of laser scattering technology. You can easily read on the display how many dust particles are present in the air and whether this is desirable on the display. Due to its mobility, a fine dust meter can be taken anywhere.
Remove fine dust from your classroom or school with an air purifier
You take action when the fine dust concentration is too high. This is best done with an air purifier for areas such as a school building, playgroup, secondary school, college, university, classroom, canteen or other space in education.
The EDC650 is the ideal choice to protect these types of buildings. This air purifier is specially designed to extract and remove fine dust from the air. With the best tested technology, the EDC650 removes fine dust from the air with an effectiveness of 99.99%. There is not a more effective method to remove fine dust than with an air purifier. Read more about the EDC650 on the product page.