We care about clean air
solutions for indoor air quality
The XOZ400 ozone generator, efficient odour removal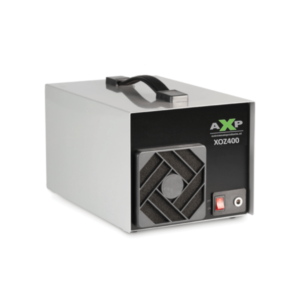 Efficient ozone production
Robust and portable
12V power supply
Hose connection possible
Low energy consumption
Made in Sweden
Call +31 20 646 4028 for free advice and offer
Follow us
XOZ400 Ozone generator removes odour from smoke, mould and pets
The XOZ400 is a robust and portable ozone generator that can easily be used in a car, boat or motorhome thanks to its 12V power supply. Ozone can be used to efficiently remove odours such as smoke, moisture and mould, but also, for example, the smell of pets or sweat. Ozone is a clean, natural way to remove odours. Ozone oxidises organic material, such as microorganisms and odour molecules, which are thus permanently eliminated. You can read more about how ozone works and all its advantages and disadvantages here.
The XO400 uses an ozone tube in which high voltage converts oxygen molecules (O2) from the air into ozone (O3). AXP's durable ozone tube technology offers several advantages, such as efficient ozone production, long service life and the possibility to connect a hose. The latter makes it possible to treat hard-to-reach areas such as a car ventilation system.
The XOZ400 can be used for both one-off room cleaning and permanent applications. The ozone generator can be easily wall-mounted. Permanent application is possible e.g. in waste rooms or when connected to a grease separator. High concentrations of ozone are harmful to humans and animals and must therefore be used with appropriate precautions. With the XOZ400, brief access to the room (up to max. 5 minutes) is within the standards.
When you start working with an ozone generator, it is very important to follow the instructions carefully. It is a clean and safe way to clean a room, provided you work with it in the right way. Fortunately, ozone has a strong smell, which you can smell even before a harmful concentration of ozone is present.
With the XOZ400, you are assured of a robust, efficient and safe ozone generator, manufactured in Sweden by a member of the European Ozone Association (EUOTA).
Productspecifications of the XOZ400
Technical features
Power supply:              12V (100-240V adapter
.                                       included)
Energy usage:              max. 20W
Ventilator capacity:     116m3/h
Ozone production:      400mg/h
General features
Measurements (hxwxd):   160 x 180 x 270 mm
Casing:                                  Steel
Weight:                                 2,8 Kilo
Operation:                           manual on/off
Mounting:                            standing/wall
Performance
Technique:                           Ozone tube
Hose connection:                yes
Warranty:                             2 year